Electric Vacuum Sealer Packaging Machine For Home Kitchen
 Specifications: Power 145W Power Voltage 100-240V/50-60Hz Bag Mouth Width <31.5cm Heating Wire Width 5-7mm Temperature Control Mode Intelligent Temperature Control/not...
✔️ WORLDWIDE FREE SHIPPING
✔️ 30 DAYS RETURN GUARANTEE
✔️ SECURE CHECKOUT
Description
 Specifications:
| | |
| --- | --- |
| Power | 145W |
| Power Voltage | 100-240V/50-60Hz |
| Bag Mouth Width | <31.5cm |
| Heating Wire Width | 5-7mm |
| Temperature Control Mode | Intelligent Temperature Control/not Heat |
| Vacuum Mode | Dried Fruit/Meat/Soft |
| Vacuum Speed | About 4/8 liters |
| Product Size | L380mm * W150mm * H58mm |
| Net Weight | 1.26kg (Bare Metal) |
| Color Box Size | L415mm * 1050mm * H207mm |
| Packaging Weight | 1.65kg (Including 15 Vacuum Bags) |
Features:
-SAVE TIME/KEEP FRESH: The food sealer machines can sealed food by quickly drains the air around the food, it can removes most of the oxygen, reducing the speed of oxidation, and help preserve most fruits, vegetables and meat for weeks or months in the refrigerator, fresh 7x longer, reduces food spoilage and food waste.and cooking and meal preparation will become easier, more economical and faster!
-DRY/MOIST/SOFT 3 MODES: Designed with automatic one-button sealed operation with intelligent LED indicator ring. Green: vacuuming > Red: Sealing > Blue: Done. Simple operation, quick pumping speed and strong suction, Dry food sealing time 5-10s, Moist sealing time 10-20s. Soft seal modes can prevents delicate foods from crushing, it can vacuum sealing dry foods , moist foods, liquid foods, powder foods. You can vacuum sealing anything you want in our daily life.
-MANUAL VACUUM/EXTERNAL VACUUM: Manual Vac Mode can better protect the shape of foods, such as grapes, cherries and other soft ingredients.You can arbitrarily control the degree of vacuum sealing required. External vacuum fuction can vacuum clothes and quilts, keeping it far away from damp and save space. For fresh keeping jar & fresh box: reduce the speed of food oxidation. Air suction cover it can preserve quality and taste of wine.
-WIDE RANGE OF APPLICATIONS: Food storage: it can keep the taste and hydration of fresh fruits, nuts, meat, seafood, sweets, Cookies, Potato chips and vegetables. Goods storage: you can keep your valuables sealed to keep it from the air, reduce oxidation, prevent moisture, and retain its original appearance. such as photos, letters, jewels, antiques and etc.



Package Includes:
1 x Vacuum Machine
1 x European Plug
1 x Instructions
15 x Sealing Bag





Note:
Please allow 1-2cm measuring deviation due to manual measurement.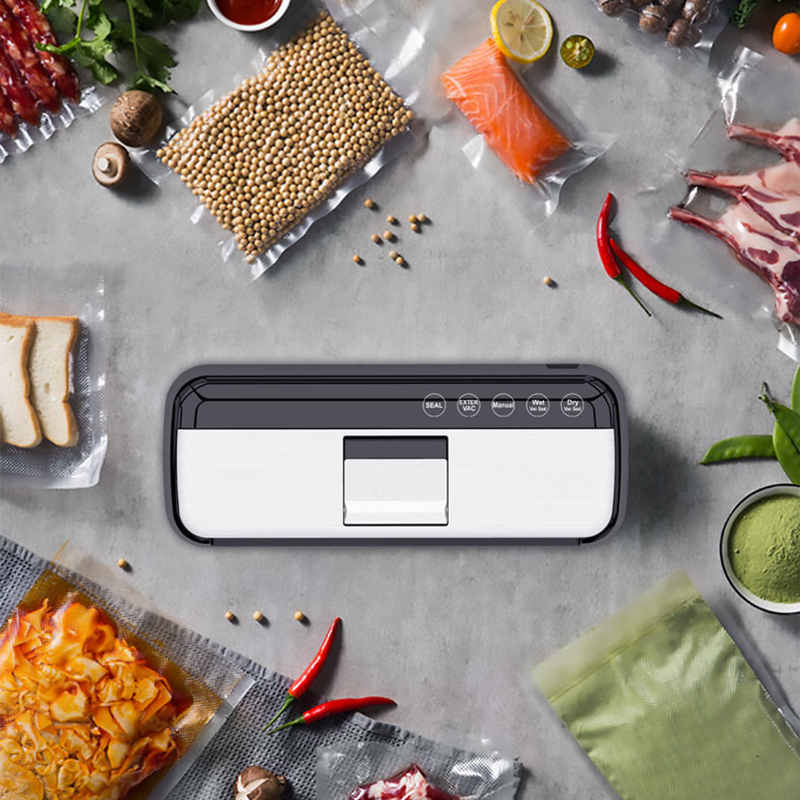 Electric Vacuum Sealer Packaging Machine For Home Kitchen